As of early 2022, four Russian oil companies were present in different onshore and offshore locations in several African markets. Overall, Russian players tend to act as operators in North Africa (Libya, Algeria, Tunisia), while they mainly act as partners in Sub-Saharan Africa (Ghana, Nigeria, Cameroon, Congo and Mozambique). Exceptions include Lukoil's operatorship in Equatorial Guinea and Congo.
Lukoil seems to be the most active Russian oil company in the Gulf of Guinea sub-region, even if it does not operate any producing project in the area. Gazprom and Tatneft are rather present in North Africa, while Rosneftgaz is the sole Russian oil company to hold working interests in East Africa.
Moreover, Russian players are active in all types of upstream projects, from exploration acreage to development and production assets in Africa.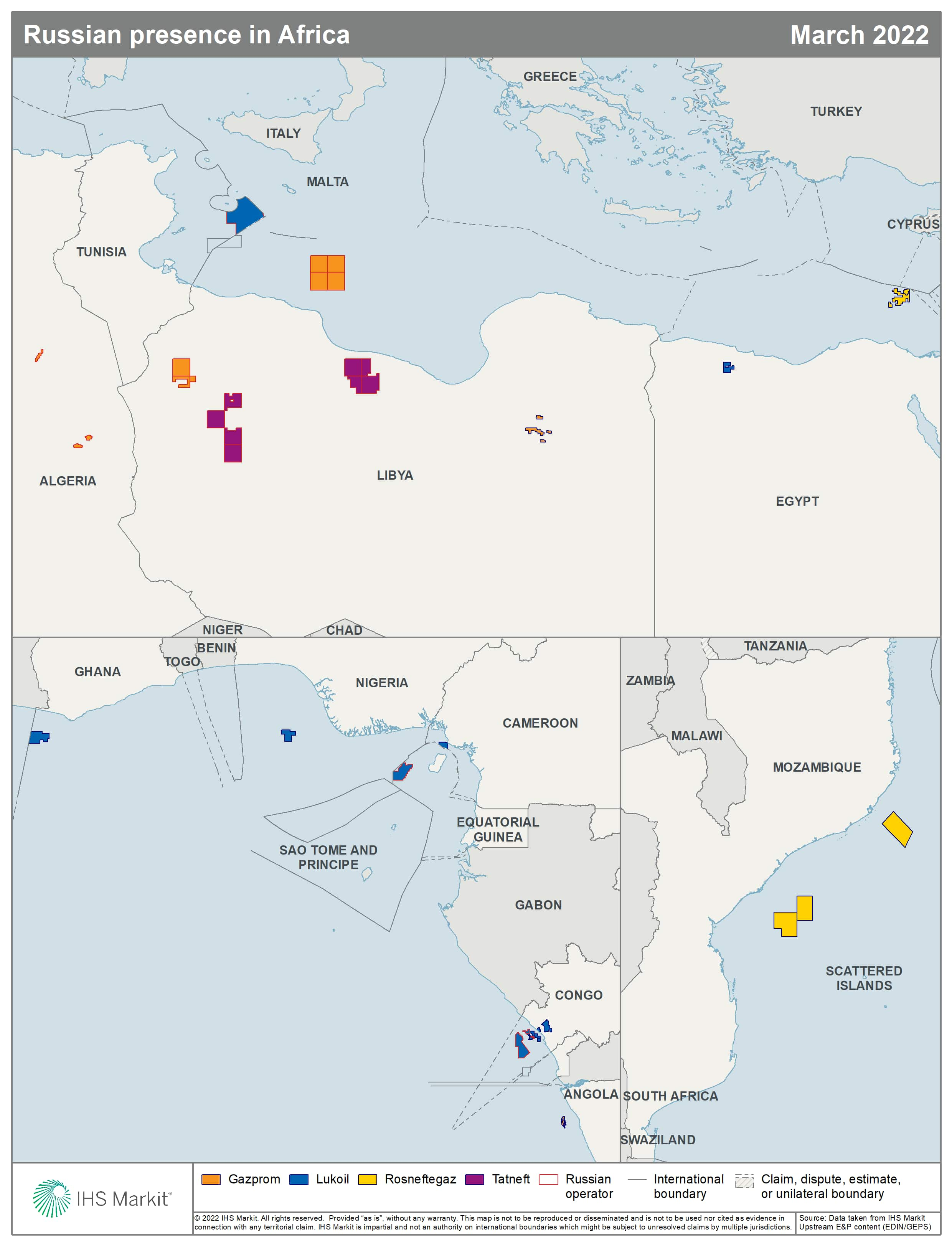 Figure 1: Russian presence in Africa
In March 2022, international communities started to impose financial and operational sanctions upon the Russian oil companies, as a response to Russian President Vladimir Putin's military operations in Ukraine that began in late February 2022. These measures are expected to impact several upstream projects in Africa. The most relevant are listed below, with Russian company names in bold text.
Exploration activities at risk
In Tunisia, Lukoil operates the Chebba Marin exploration permit in shallow waters of the Pelagian Basin. The company may not be able to conduct activities in the acreage due to the current situation. It must be noted, however, that Lukoil has not been active in this permit since 2012 when it was suspended due to force majeure.
In Libya, operator Tatneft is exploring its Area 082 Block 4 in Ghadames Basin. In late February 2022, right before the eruption of the conflict in Ukraine, Tatneft was testing an outpost well. The firm may stop drilling in the coming weeks due to an impossibility to finance the operations. Gazprom also operates four exploration blocks offshore in the Pelagian Basin. Although some announcements were made in recent years about the resumption of exploration works, the company was not performing any activity as of early 2022.
In Nigeria, operator Chevron and partner Lukoil have unconfirmed plans to further explore deepwater block OML 140. A new-field wildcat has been planned since 2016 in deep waters, and such an expensive exploration campaign will clearly not be undertaken without a full guarantee regarding the funding.
In Congo, Lukoil operates two large exploration blocks with Eni as partner. The companies won the acreage during the Congo Licensing Round 2018-2019. Both blocks have commitments for the first period including the acquisition of 3D seismic data and one well. This work program is now unlikely to happen within the first exploration period.
In Mozambique, operator ExxonMobil and partners Rosneft, Qatar Energy and Eni plan exploration drilling activities in three offshore licences. The first drilling might be located within the Zambezi Delta, with a spudding anticipated in 2023.
Delayed FID and development projects
In Sub-Saharan Africa, Lukoil is active in three projects where FIDs are expected to be taken in the short term. These key milestones are now at risk, as the company has a minimum of 30% working interest in the projects, when it is not operator.
In Cameroon, operator New Age and partners Bowleven and Lukoil expect to take in 2022 the FID for the undeveloped gas, condensate and oil fields of the shallow water MLHP-7 (Etinde EA). The Field Development Plan (FDP) is still under review. However, possible international sanctions upon Russian partner Lukoil may create an additional hurdle, as Bowleven stated on 30 March 2022.
In Ghana, operator Aker Energy and partner Lukoil might submit in 2022 a reviewed field development plan (FDP) for the Pecan and satellites project, in the DWT/CTP block. Aker has been reviewing the FDP since 2020, when total capital costs were cut significantly. If the development plan is submitted and approved in 2022, the first oil could be reached in 2025. However, this project is also at risk due to possible international sanctions that Russian partner Lukoil might face.
In Equatorial Guinea, the Russian player Lukoil acts as an operator for the giant and deepwater Fortuna undeveloped gas project. On top of possible sanctions mentioned above, although the contract remains valid, Lukoil has tacitly disengaged from its operatorship of Fortuna. The company won the undeveloped 2 Tcf project through the EG Ronda 2019 licensing round and an FID was expected since early 2020; it is now unlikely to happen before 2025.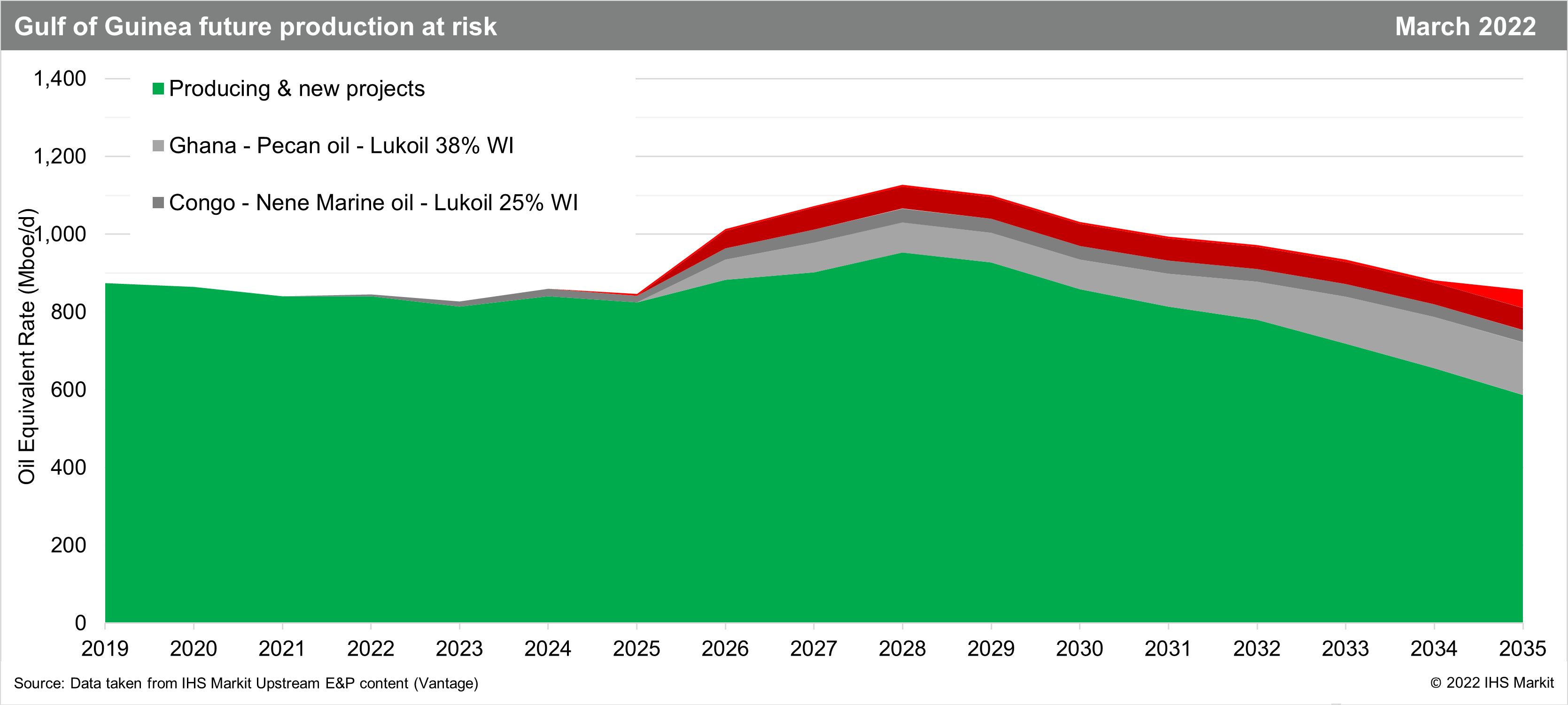 Figure 2: Future oil production at risk in the Gulf of Guinea
Crude oil and natural gas production impact
In Libya, Gazprom operates two production assets in Sirte Basin, in partnership with the National Oil Corporation and Wintershall. Here, the production at the field level should not be significantly affected as the partnership could compensate for the eventual issues that Gazprom may suffer as a result of sanctions. However, the crude exports from the group could be affected at the loading terminal in the Zueitina Port.
In Congo, Lukoil is partner with Italian player Eni in several shallow water producing assets including Nene Marine and Litchendjili Marine fields. The former has been producing since 2014, but the phase 2B of development started in late 2021, with aim to add some 15,000 boe/d. This phase could be compromised if partner Lukoil is sanctioned and cannot co-finance the project. Perhaps a more severe impact could be a delay to the proposed modular floating and jack-up LNG development at the Nene field. The expected startup is in Q2 2023.
In Egypt, Rosneft is one of Eni's partners, along with BP and Mubadala Petroleum, in the giant deepwater Zohr field and the adjacent Shorouk exploration block (Nile Delta basin). In the Western Desert, Lukoil is Eni's unique partner in the Meleiha block where Italy's major operates more than twenty oil fields. Production from those fields should not be significantly affected as Lukoil has a minority stake without operations on the ground. In the rest of the country, Lukoil operates two small acreages located in the Gulf of Suez. In the event of a withdrawal by Lukoil, both acreages could be taken over by an IOC or by NOC such as GPC.
Conclusion
As of early 2022, the Gulf of Guinea appears to be the most sensitive sub-region of Africa, should the Russia-Ukraine conflict draw out too long. Indeed, several key oil and gas projects need to be sanctioned in this area to ensure a steady production outlook in the next decade. But international sanctions against the Russian firm Lukoil for example could compromise up to 173,000 boe/d of future production by 2028, in Ghana, Congo and Equatorial Guinea.
On the other hand, the current oil and gas production in North Africa (Libya and Egypt) is not expected to be impacted that much, due to a relatively lower participation of Russian players in the projects and a solid partnership that could compensate for the operational issues that might be encountered.
Source: https://ihsmarkit.com/research-analysis/russia-ukraine-conflict-impact-on-upstream-activities-Africa.html