Oil prices fell on Tuesday morning as uncertainty around Chinese oil demand continues to grow – particularly in the near-term.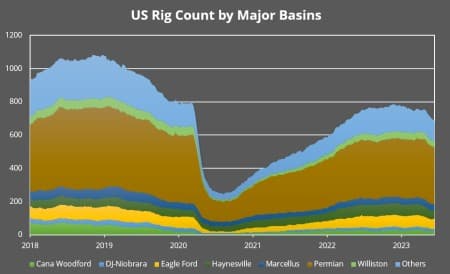 Chart of the Week
– Chinese refiners added some 1.77 million b/d of crude to their inventories in May, equivalent to 53 MMbbls, the most since July 2020, making it unlikely that China would go on a buying spree anytime soon.    
– The inventory build-up stemmed from a period of lower refinery runs in April-May, just as spring maintenance was peaking, taking the aggregate amount of crude in Chinese storage to almost 1 billion barrels. 
– Despite refineries being offline and diesel demand still far from expected levels, oil imports into China hit the third-highest reading on record with 12.11 million b/d as buyers doubled down on Iranian and Russian barrels. 
– Even though Chinese private refiners received 62.3 million tons of volume allotments in the 3rd oil import quotas of 2023, high stocks might temporarily bar them from tapping the market for immediate deliveries.  
Market Movers
– QatarEnergy signed another megadeal with China, this time clinching a 27-year term agreement with China's CNPC for the purchase of 4 million tons LNG per year once the North Field expansion is online. 
– US oil producer Civitas Resources (NYSE:CIVI) announced it is buying oil and gas assets operated by private equity firm NGP Energy Capital Management for $4.7 billion, adding some 100 kboepd in the Delaware and Midland basins.
– Chinese battery champion CATL (SHE:300750) agreed to invest $1.4 billion in Bolivia's yet untapped reserves of lithium, getting access to the world's largest lithium reserves in the Uyuni salt flats. 
Tuesday, June 20, 2023
After a rather uneventful start to the week, with the US markets out on Monday, oil prices fell on Tuesday morning. While China's decision to cut its one- and five-year lending rates should help to bolster economic activity, there is growing uncertainty around the country's oil demand. China's huge build-up in stocks these past weeks and the CNPC's recent downgrading of Chinese oil demand growth in 2023 poured cold water on immediate expectations of strong demand. Early on Tuesday morning, WTI had fallen below $70 and Brent was trading below $75.
India Warns of Inflation with OPEC+ Cuts. India's oil minister Hardeep Singh Puri warned that production cuts by the OPEC+ group, totaling 3.66 million b/d until the end of this year, might aggravate inflationary pressures and kickstart economic recession. 
Coal Subsidies Derail EU Power Reform. Members of the European Union have failed to agree on new rules for the region's electricity market as several members led by Sweden sought to prolong capacity subsidies for standby coal plants that remain on to avoid blackouts. 
Iran Exports Crude as If There's No Tomorrow. Iranian oil exports have reached 5-year highs recently, with Kpler seeing May supplies to the market exceeding 1.5 million b/d, just as OPEC+ is focusing on cutting production with Saudi Arabia slashing its July production by million b/d. 
Warren Buffett Doubles Down on Japanese Stocks. US business mogul Warren Buffett raised his stake in five of Japan's leading trading houses (Itochu, Mitsubishi, Mitsui, Sumitomo and Marubeni), with Berkshire Hathaway (NYSE:BRK) now controlling over 8.5% of their capital.  
Venezuela Plans to Speed Up Oil Recovery. The chief executive of Venezuela's national oil company PDVSA Pedro Tellechea said the Latin American country could reach 900,000 b/d in oil output this month, up 15% month-on-month, despite Chevron (NYSE:CVX) hitting the limits of its capacity there. 
Hedge Funds Flock into Distillates. Portfolio investors have sold the equivalent of 21 million barrels of crude futures and options over the week ending June 13, all the while purchasing 18 million barrels of products, especially middle distillates in Europe as their stocks remain well below normal.
Iraq Launches New Gas Licensing Drive. The government of Iraq invited Western majors to bid for gas exploration contracts in 11 new blocks mostly located in the western Anbar province, as Baghdad seeks to end its routine flaring and reduce its reliance on gas imports from Iran. 
Israel Agrees to Gaza Marine Development. Israeli authorities gave preliminary approval for the development of the Gaza Marine offshore gas field off the coast of the Gaza Strip, estimated to hold over 1 TCf of natural gas and discovered by British Gas back in 2000. 
Trafigura's Nickel Nightmare Just Got Worse. A metals trading firm owned by metal tycoons the Reuben brothers has filed a legal claim against commodity trader Trafigura over the ongoing nickel fraud case, as the Swiss trading major has already booked $590 million in impairments. 
TTF Trading Soars to New Highs on Volatility. Exchange operator ICE recorded an all-time high in TTF gas futures and options traded on June 15, a total of 660,504 contracts, as gas prices surged on Norwegian maintenance of gas processing plants to €41/MWh, only to decline afterwards.
Enbridge Needs to Rebuild Line 5. A US District Judge ordered Canadian pipeline firm Enbridge (TSE:ENB) to shut down a 12-mile segment of the Line 5 trunk pipeline that runs through tribal land in Wisconsin within three years and pay the Bad River tribe $5.2 million for trespassing. 
Zimbabwe Pioneer Wants Bigger Partners. Australian exploration firm Invictus Energy (ASX:IVZ) plans to drill its Mukuyu-2 well in northern Zimbabwe after having found oil, gas condensate and helium with its first wildcat, hoping to bring in new partners into the African country's first big energy project.  
Guyana Postpones New Oil Tender. The government of Guyana has postponed its long-awaited auction of offshore blocks for the third time already, tentatively to mid-August, as the licensing will be the first to be carried out under a new regulatory framework that hiked royalty rates.
Source: https://oilprice.com/